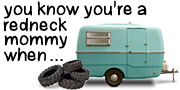 Do you all know Tanis? I'm sure you do, but in case you don't, go on over and check her out. She has something extra special to celebrate this Valentine's Day.
In honor of her newly expanded family, I am participating in a virtual shower for her.  The first time I met Tanis was at last year's BlogHer conference. It may have been in Chicago, but that was a blur. Anyway, the first time I remember meeting her was last year when the first thing she talked about was boobs. What's not to love?
She calls herself the Redneck Mommy, but whattheheckanutcrack does that mean anyway? We all have a little Redneck in us anyway, don't we? Especially if you're American. Hell, we INVENTED Redneck. If you don't think you have a little Redneck in you, just read on, my friend.
YOU MIGHT BE A REDNECK MOMMY IF...
(a compilation that may or may not be based on Stefania's actual life)
You often "forget" to brush your kids' teeth twice a day but tell the dentist that you do, then look thoughtfully surprised when he mentions "excess plaque on the back molars."  Huh? Really? You don't say.
You could eat Spam in some shape or form every day from atop musubi to fried to cut into strips and added into instant ramen. (Feel free to substitute "hot dogs"  or "Vienna sausage" for "Spam.")
Speaking of mystery meat, one of your kid's favorite snacks are Slim Jims. Which your kid's teacher's aide saw you purchasing in bulk at the grocery store.
You've reached for a beer when a soda would do, but it was a light beer so that's almost the same.
You've sprayed on perfume instead of taking a shower. (Applies to kids, too.)
You've hung a shirt in the shower instead of ironing it. And smelled it first to make sure it was clean.
You've put less than $5-worth of gas in your car...
Or paid for groceries with loose change (before Coinstar).
Your kids stumbled upon inappropriate television content (no, not pr0n, SpongeBob) and you let them watch it because you were busy Twittering.
Your kids have chosen their own mismatched, multilayered outfits since they were 2 and you like it that way because you can't be bothered to dress them and as long as they are wearing clothes you don't care.
You've spied a cute, forgotten jacket on the playground and contemplated taking it home. Or did.
You tell your kids that naughty kids live on Alcatraz without their parents. And they believe you.
You start using Santa Claus to encourage good behavior the day after Labor Day.
And maybe well into the New Year.
You've borrowed money from your kids' piggy bank. (And are thankful that Tata hands out 20-dollar-bills.)
You cut your kid's hair so you didn't have to brush it.
You can make a wholesome dinner with a can of tuna as the central ingredient.
You wait until the kids are in bed to eat dessert.
You tell the kids that the watered down vodka drink next to your bed is water while quickly whisking it away so they don't take a sip.
You go to McDonald's more often than you would ever admit. (Once a week, pretty much.)
You work 4 part-time jobs.
You wait until the last minute to check your kid's backpack for notes from the teacher.
Your library fines equal your cable bill.

What I'm trying to say, Tanis, is that you made my day today (and you know why) and we love you. I am so overjoyed for your family I can't even stand it.  A Redneck Mommy is the best kind of mommy. Thanks for being our Queen.
Kisses,
Stefania